Tour de Toad & Iron Toad are set for Spring 2016!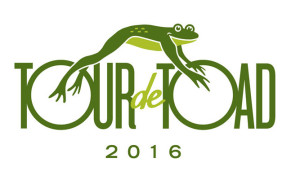 The 9th Annual Tour de Toad takes off on Saturday, May 7, 2016, at 12:00 p.m. from the Conway High School Field House. Check-in and registration starts at 11:00 am. We will have early check-in the night before at The Ride in Conway (more info TBA soon). Cyclists can pick between a 25 mile and 46 mile route. Riders will receive a custom T-Shirt and the first fifty registrants will be entered for a chance to win a free Tour de Toad Jersey. Also, this is our third year for the IRON Toad event, where we partner with the Kiwanis Toad Run in the morning. Those participants that complete any section of the Toad Run and Tour de Toad ride will receive a custom IRON Toad Medal!
Click Here – REGISTER NOW on Active.com!
Updated information for Tour de Toad and Iron Toad is available on our Facebook page: https://www.facebook.com/TourDeToad
Thank you to our current 2016 Tour de Toad Sponsors!:
Alyssa Journey, The Ride, Conway Advocates for Bicycling, First Class Trophies & Awards, Eric Rob & Isaac, Orbea USA and Cranford Co.
Sponsorships for Literacy Action's Tour de Toad and Iron Toad are available now at several levels. As a sponsor, you will receive complimentary rider registrations for Tour de Toad, along with other recognition listed in the sponsorship package. All proceeds support Literacy Action's work in Central Arkansas. Please contact Sara Drew at sdrew@www.literacyactionar.org or 501-372-7323 for more information and a sponsorship package.