Meet Our Tutors
Read below about the lives and experiences of some of our present and past tutors …
Beverly Jacobs
My home state is South Dakota; I earned my Bachelors and Masters degrees at the University of South Dakota in Speech-Language Pathology and spent a dozen years evaluating and treating adults in medical settings who had acquired communication and cognitive disorders due to brain damage. I earned my Ph.D. In Communication Processes and Disorders at the University of Florida and spent the remainder of my career at several universities teaching academic and clinical courses and doing research. I have also lived in Iowa, Florida, Illinois, Tennessee, North Carolina, and Maryland.
I recall my early years growing up in the Midwest as feeling happy, safe, carefree, and greatly loved by a large extended family. My mother was primarily responsible for my continued pursuit of education. She made me believe I could achieve academic success against all odds.
I enjoy learning, reading, volunteering, worshipping at my church, relaxing on a Florida Gulf Coast beach, and spending time with my 10 grandchildren and one great grandbaby. It's important to me to continue my volunteer work and have as much involvement in my grandchildrens' lives as possible.
I began teaching ESL adult students for pay when I lived in Florida but didn't continue to make time for it as my career advanced. After I retired and moved to Maryland I resumed teaching on a volunteer basis, so it was natural to continue after I moved to Little Rock.
Beverly is shown in the picture on the right. Her student, Eun, is on the left. We were celebrating Giving Tuesday by showing what we were thankful for.
Sophia Ordaz
I was raised in Little Rock but I moved to Conway to begin my education at the University of Central Arkansas. Since then I've been grateful to have experiences living out of the state. In the summer of 2018, I undertook an editorial internship in New York City, and in the spring of 2019, I studied abroad in Guadalajara, Mexico. I graduated with a double major in English and Spanish from the University of Central Arkansas in 2020.
During my time at UCA, I took on leadership roles at the student newspaper and literary magazine. I also became interested in volunteer work. Last summer I got involved with El Zócalo, an immigrant resource center based in Little Rock, and, of course, Literacy Action of Central Arkansas! I got involved with Literacy Action because of my love of the English language and my desire to help others. Although I was a little nervous about teaching at first, I was able to discover through LACA how enriching it is, as well as meet my student, who is such a blessing to teach!
Growing up, some of my favorite memories were when my mom would take me to Little Rock's amazing public libraries. We would spend hours there together, reading and coloring, and I would always come home with an armload of books. My mom is my biggest inspiration. It requires a lot of sacrifice and bravery to leave your loved ones behind and immigrate to another country like she did. Throughout my life, I've admired her resilience and perseverance, and am grateful for the love she gives to my family and me.
I love keeping my mind and body active. Now that I'm done with college and preparing for my next chapter, I spend my free time reading, discovering new music, and journaling. When it's not too hot, you can find me longboarding or rollerskating down Little Rock's beautiful bike trails. I'm proud of my ability to go out of my comfort zone. Over the past couple of years, I've had countless experiences that made me feel self-doubt and uncertainty, but sticking through them, whether it meant interviewing notable people for the student newspaper or living in an enormous metropolitan city without my friends and family, has taught me strength.
After I discovered how much I enjoy teaching English thanks to my involvement with LACA, I knew I wanted to teach English abroad at some point in my life.  Last year, I received word that I earned the Fulbright grant to teach English in Mexico! I'm incredibly grateful for the opportunity and know that, come what may, I'll do whatever I can to have cross-cultural experiences like this one. Other things on my bucket list are completing my graduate education, finishing my To Be Read pile, and going to as many concerts as I can.
(Photo credit to Lauren McLemore)
George Henderson
Chicago native George Henderson graduated from the University of Arkansas at Fayetteville. He learned about Literacy Action at a literacy festival, but his first exposure to illiteracy was through an adult family member who was being taught to read. "It was a surprise to me because he was getting through life and seemed to be making it okay.  Most literacy students are competent people, clever at hiding their handicap. I always loved to read and felt that anyone who couldn't was missing a great deal." George knows that more adults would seek help if it were not for the stigma associated with illiteracy. "The biggest hurdle is embarrassment.  People hesitate to seek help."
George and his literacy student both work busy schedules but both make time to meet at least once during the week. George says that frequent communication helps the two stay on track. "I call my student every week to make sure he is going to make the session. The routine becomes part of your life."
Like most tutors, George works with his student on practical skills that he can use every day. One of his student's goals was to learn to write a check. "While we worked on his lessons, we also made check writing a side activity. The day he told me that he had written his first check without reservation or fear or embarrassment was a memorable reward for me."
George had always wanted to give back to the community. At the end of every lesson, his student reads a little bit better. "He doesn't struggle with the things he used to struggle with. Just knowing I have helped improve his life and opened the world of reading to him is all the benefit I need."
Heidi Williams
Heidi Williams remembers well what it was like to move to a new country as a young girl. Her father was an American soldier stationed in Germany when he met and married her mother. When her family eventually settled in Little Rock, Heidi spoke only German and she recognized "how isolating it can be when you hear all the strange sounds around you and you cannot understand or make yourself understood." But she quickly adapted to her new surroundings and started to learn English as a second language.
Little Rock has been Heidi's home for most of her adult life and where she has worked for 43 years as an executive assistant. At her last employer, The Stephens Group, LLC, she had a conversation with a fellow employee about what she would do with her time when she retired. Her friend suggested that she should look into teaching others to read. "I knew I wanted to get involved in some type of community service, but I had not narrowed it down. After some research, I found Literacy Action and learned that the organization works with adult literacy and ESL students." Based on her personal experience, Heidi felt that she would like to work as an ESL tutor.
After she completed her training, Heidi was assigned an ESL student from Thailand. "I have formal lesson plans for teaching my student to speak and write English, but we try to chat informally for at least 15-20 minutes at each lesson to give her the opportunity to improve her conversation skills." Heidi adds, "The rewards are knowing you are making a difference in someone's life by improving language skills and self esteem."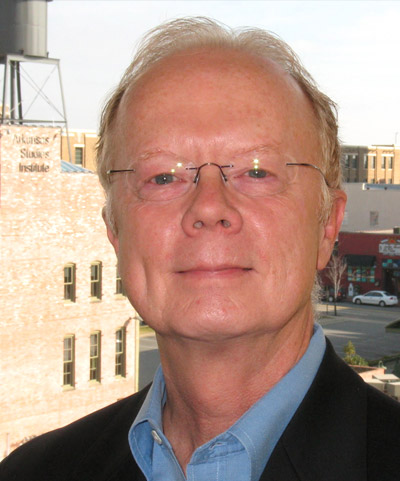 Jim Nosari
Jim Nosari, a Little Rock commercial real estate developer for almost 30 years, wanted to use what he felt was his best skill: one-on-one personal interaction. He was willing to commit to a long-term plan that would make a lasting impact on someone's life, and he liked the idea of seeing firsthand the results of his work.
Jim's current student is learning English as a second language. Teacher and student are glad that they can establish their own schedule for lessons, and they have made a commitment to come to each session prepared. For Jim that means reviewing his lesson plan and for his student it means completing his homework assignment.
They work on vocabulary and grammar and they practice phrases that can be put to use right away, such as asking directions or speaking with shopkeepers. Jim understands how important it is for his student to leave each session with a sense of accomplishment. Learning about people in other cultures has been an unexpected delight for Jim. "I have learned a lot from my student," he said.