Meet Our Students
Read below about the lives and experiences of  some of our current and former students …
Loc Huynh
Loc moved to the United States from his native country of Vietnam at the age of 18. He enrolled at Literacy Action and was placed with a tutor, Liz Hawkins (pictured with Loc, left), who helped him build his confidence in English, which set him on a course to get his first job, his GED, and an associate's degree from Pulaski Tech, where he won the Academic All-Star Scholarship with full tuition to the University in Arkansas. Loc received his BA in Engineering from the U of A with a 4.0 GPA and honor distinctions and quickly got a great job offer from CenterPoint Energy. Along the way, he became a citizen of the United States as well. Loc writes:
"Coming to a different country and creating a life for myself, I got an engineering career and made life-long relationships. Many of those things I did not even dare to dream of when I first arrived here. I could not stop wondering, what if I decided not to try out English lessons with Literacy Action, how different my life would be!? It all started with a simple goal—I must speak the language. The day I met with Liz I was a pivotal moment in my journey. Without the help from Liz and [her husband] Caley, I would not have had the chance to improve my English in such quick time and learn about American culture. Without developing my communication, none of my achievements would have been possible. Liz and Caley have done a lot more than just volunteering for the Literacy Action program, they helped realize an American dream for an immigrant. While I am still always learning English and will be improving it for the rest of my life, Liz and Caley have given me an important thing, a starting point for my learning journey."
Read Loc's full story "My American Dream Journey" here.
Esthela Ventres
Esthela moved to the United States from El Salvador in 2017. She had a BA in accounting, but needed to pass the TOEFL (test of English as a foreign language) to enter college here and get her Master's degree. Through her hard work and with the help of her tutor, she accomplished her goals! Here's a letter Esthela wrote to us:
"I am so thankful to Literacy Action for helping me to find a tutor—Ms. Marlowe Coolican—in 2019. She helped me not only to prepare for my TOEFL test but also with boosting my self-confidence in learning English as a Second Language (ESL).
I am so glad I have had that opportunity. I remember my fear and anxiety about taking the test, but after two attempts, I passed the exam! I have no doubt it was Literacy Action's help and my tutor's support that made a positive impact on my personal and professional life. The tips that my tutor taught helped me throughout the rest of my Master's in Public Administration studies at UALR, where I graduated in May 2021.
Now, I am the Learning Program Coordinator at UALR-Children International, where I have the opportunity to put into practice my ESL skills and experience. I really appreciate Literacy Action's support when I needed it the most."
We congratulate Esthela on her success, and wish her the best in her career and life ahead!
Jonas Smith
Jonas came to Literacy Action through the GAIN program, a drug treatment center in downtown Little Rock. Jonas was released on probation in 2018 after being in and out of jails and institutions for most of his adult life. When he was just 12, Jonas started selling drugs for the promise of "fast money," despite having a good family life and loving parents. When he was 15, he started using drugs himself because he was nervous about going to jail. He skipped a lot of school, finally dropped out in tenth grade, and spent time living on the streets. Now, given a second chance, Jonas wants to turn his life around and be a good example for his children.
At his first appointment with Literacy Action, Jonas told us that he needed help starting from the basics of reading with re-learning the letter sounds. Jonas shows signs of having dyslexia, which makes it difficult for him to sound out words he has never seen before. Jonas started working with his tutor, Sarah, using the Barton dyslexia curriculum. He quickly made progress in re-learning the letter sounds and reads with much better fluency and comprehension than he did at first. While he studied with Literacy Action, he served as a peer counselor at Gain leading AA and NA groups and counseling other men like himself. We are really proud of Jonas and his dedication to learning and creating a new life for himself, and we are thankful to have been a part of it!
Sophia White
Sophia was born and raised in Taipei, Taiwan. In 2001, she came to the U.S. and has been living in Conway, Arkansas ever since. She used to work at an accounting firm but after she came to the U.S., she worked at a restaurant and took on a housekeeper job for a while. Now she's retired.
Sophia writes, "I used to go to The Conway Adult Education Center to learn English. A classmate told me about Literacy Action of Central Arkansas at the library. I'm glad I have participated because it helps me focus on what I need to improve. My tutor [Sophia] is an awesome teacher!
I didn't like to read at first because it would make me sleepy. But reading is the best way for me to improve my English. For a while, I had a hard time finding the right book for me till Sandy, a teacher of The Conway Adult Education Center, handed me a romance book by Danielle Steele called A Good Woman. Surprisingly, I enjoyed reading this book and it wasn't difficult for me to read. Still, one day I hope to find some interesting books to read besides romance!"
Itza Navarro
Itza was born in Ensenada, Baja California, but moved to Hermosillo, in the northwestern state of Sonora, Mexico when she was 1 year old. She studied law at the University of Sonora before moving to Conway, Arkansas a few years ago.
Itza's favorite memories are a lot of moments with her family: parties, trips and especially the holidays. She also likes to visit new places in Arkansas. She writes, "We come from a desert area, so Arkansas makes me feel that I'm living in a magical place. I love the Natural State!"
"I'm very proud of my kids and my husband. We had this amazing opportunity to change our lives, and we took it. We had to start our life in a new country without our relatives and friends, even when I didn't speak English, but it is a reason for my motivation every day. It isn't easy, but is possible," writes Itza.
After coming to Arkansas, Itza tried to find help with the language, and a friend recommended Literacy Action because she had a tutor in Little Rock. Itza was happy to discover Literacy Action's Conway office and says, "They gave me an amazing tutor. I am so grateful, and I would like to say thank you to Literacy Action, who does so much for us. I can see every day that I understand more, and my tutor [Aaran] gives me the confidence to believe in myself, and now I know one day I will achieve my goal."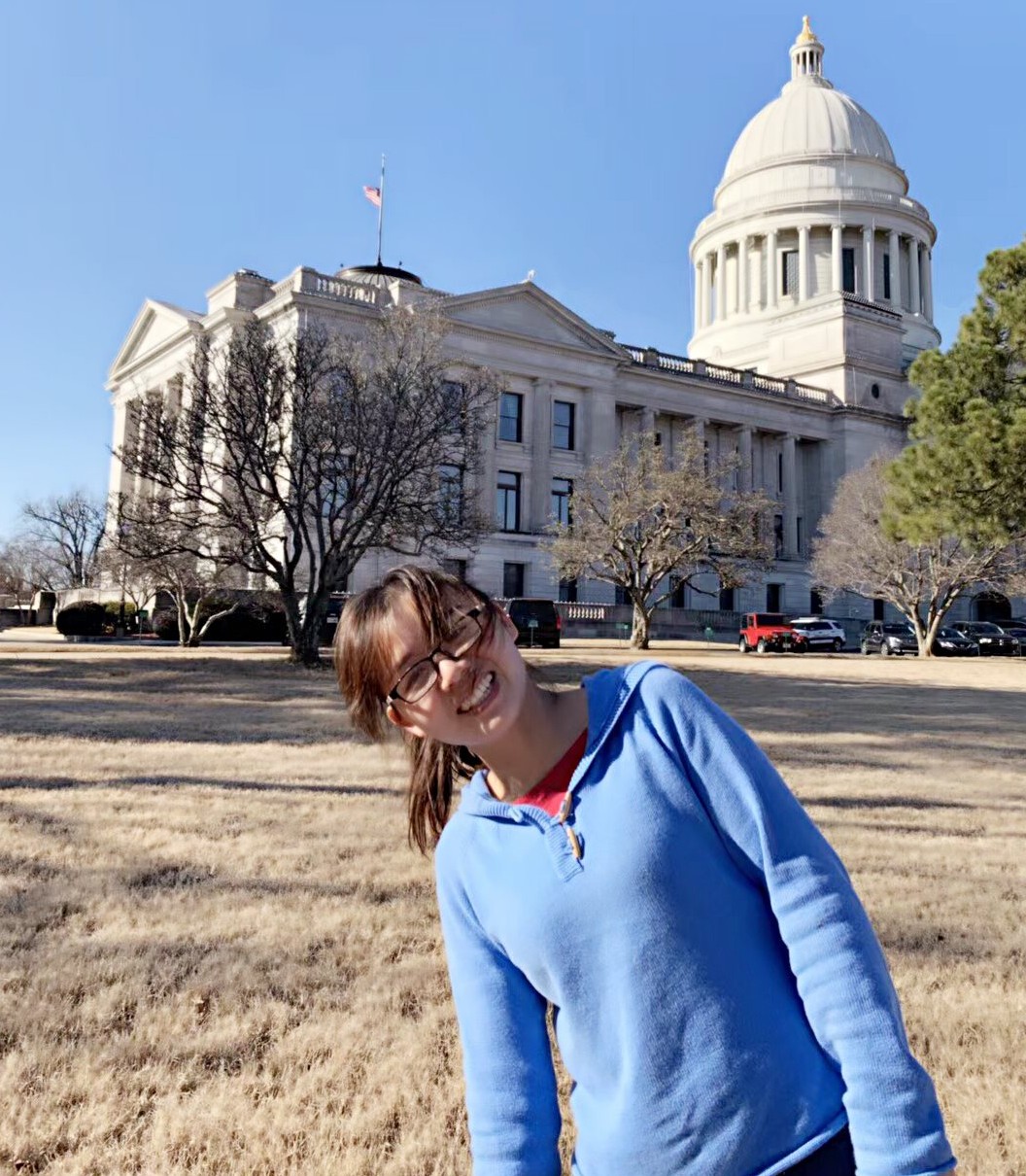 Liping "Lilee" Zeng
Lily was born in China, Hunan province, and has been living with her family in Arkansas for over a year. She earned her Master's degree in Accounting in China but is now staying home to take care of her young children.
Lily loves spending time with her family hiking, fishing, reading stories, and playing games with her kids. She writes, "My kids are smart and my husband has been helping me become better. Although my English is not good, through studying, I believe that my English will be greatly improved.
"My husband is my biggest inspiration. It requires a lot of bravery to go to another country to study when his English [was] not good. In the ten years we have known each other, he has continued to encourage and support me and promote my continuous growth. He encountered difficulties, and his spirit of facing up to them made me admire him. He changed my life and I am grateful for the love he gives to our kids and me.
"I got involved with Literacy Action of Central Arkansas because I want to improve my English [so] that I can speak English fluently. Although my English needs improvement, my English tutor, Dale, is very patient and he carefully corrects my pronunciation and writing. Thanks to Literacy Action of Central Arkansas, I love studying English. I want to be able to speak English very well and then become a volunteer like my tutors, Dale and Kearra, to help other people."
Mersey Brito
Mersey earned her degree in Social Communication (Radio/TV), and also studied Eastern Therapies, in Brazil. After earning her degree, she worked for several years at a university helping journalism students edit and present news on TV. Later, she became interested and took some coursework in Massage and Traditional Chinese Medicine, then started to give massages to a group of children who had no parents and used to live on the streets. After moving to Thailand, she chose to specialize in foot massage.
Mersey writes, "After moving to the United States, I discovered Literacy Action of Central Arkansas when my English was so basic that it made me feel very insecure to do even small things. I was scared but at the same time very excited to join any English class… Luckily a Brazilian friend told me about this program. I was very happy and grateful to find it. I enjoy meeting people from different cultures, reading, listening to music, dancing and wondering that I can speak more than my own language fluently. I am most proud to see beauty everywhere and do everything in my way that allows all the people after me to have a chance to enjoy this world with dignity."
Mersey has attended many classes with many tutors at Literacy Action over the past few years. She continues to meet with Irma's class via Zoom in her new home in Portugal so that she can keep up her English skills. We are honored to have played a part in Mersey's adventurous life!
Allen Glover
Allen Glover became a star literacy student in our Conway office. Allen worked with several tutors over the years to increase his reading level so much that he won an essay contest! He is now able to read to his grandkids, which is very important to him. He says that it's much easier for him to go to the grocery store now because he can read the labels on the items. He was also proud to earn his motorcycle driver's license. He gave a wonderful speech at our Shine a Light on Literacy fundraising event in 2016 and also served on the Literacy Action Board of Directors as a student representative. Great job, Allen!
Yolanda Ornelas
Yolanda Ornelas (right) came to Literacy Action shortly after she moved here from Mexico, where she was a professor of economics and statistics.  She spoke an intermediate level of English at that time, but she was determined to pass the TOEFL exam so that she could pursue advanced education here. Yolanda says it was a huge challenge (especially the writing section), but with her tutor Elisabeth's help (shown on the left), she passed the test and was accepted into the Ph.D. program at UCA. Currently, Yolanda recently finished her PhD work and started a new career with Bethany Christian Services. Her hard work, along with the support of her tutor, led to her amazing results. Congratulations, Yolanda!
Sammy King
Sammy King is known as one of Literacy Action's most successful students. When Sammy learned about Helen Keller at the age of 66, he took her story as inspiration that he too could accomplish a difficult goal: continue working with his tutor at Literacy Action of Central Arkansas and finally become literate.
Raised by a man who could not even sign his name and wanted his son to get the education he never had a chance to get, Sammy nonetheless left school in the 6th grade. In 1968, King, then 18, was drafted to fight in Vietnam. He could man a machine gun, but he couldn't read, and some of his Army brothers treated him differently because of it. It made him ashamed. "I'm not dumb," King said. But he couldn't seem to find help. After his time in Vietnam, his inability to read presented new challenges; he suffered from PTSD, but as he couldn't read, it was almost impossible to get adequate treatment.
Sammy's wife Kathleen tried to teach him to read, but with both of them working, they didn't have the energy to tackle the difficult task in their free time. After retirement, however, King decided to visit Literacy Action and started working with volunteer tutor Pratt Remmel. At times, the difficulty and frustration made him question if it was worth it. But he stuck with it, faithfully spending several hours each week studying and practicing reading skills.
King now reads at about a sixth-grade level. He's finally read a book about Helen Keller. More significant, however, was when, after 19 years of marriage, he was able to pick out Kathleen's anniversary card himself and sign it, "to my loving wife." King says he now has confidence he lacked his whole life, and for Kathleen, "It's been an honor … to be with someone who has come out of hiding." He said learning to read "took the burden I've been carrying all my life," and he hopes others who can't read won't wait as long as he did to get help.